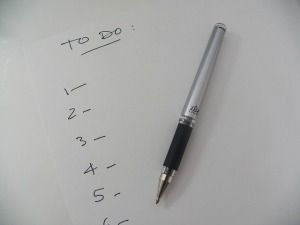 Keeping organized at home can help your life stay focused and balance your production levels at both work and home. Finding yourself a good routine will help to lower stress and anxiety levels. There are many ways you can keep the key areas in your life organized. Here are a few helpful tips.
Keep a daily planner
Maintaining a daily planner, either in notebook or note board form can assist your day to day time management. If you are keeping a notebook or paper diary, noting down appointments, reminders and tasks that need to be completed on certain days will help you to stay on track. A note board on the wall is great for organizing the family. Keeping it in an area, such as the kitchen where everyone frequently goes in and out is a good way to remind each other of things, such as birthday events or other celebrations.
Have a to do list
Creating a to do list is an easy yet fun way of managing your daily tasks. Whether its for grocery shopping, cleaning, washing or travel, it helps keep your tasks prioritized and makes sure you dont forget things you need to do. Its handy to keep a memo pad and pen around the house, so you always have something to create your to do lists on.
Keep records of finances
Keeping your financial records apart from other documents and in a safe place makes it easier to retrieve those documents when needed. Its a good idea to makes regular notes on your incomings, outgoings and savings. If you are keeping paper records or printing records out, its handy to have a folder to put them in so your files are kept together.
Create a schedule
Having a schedule, such as a cleaning rota is a great way to keep on top of household chores. It can often be frustrating when it comes to keeping a home clean and tidy but having a document where you can assign tasks to family members helps to keep a household organized. You can easily create documents, such as this in Microsoft Excel and print them out for family members to keep or display them around the house.
Have regular spring cleaning days
Setting aside a day every month or so to sort through your belongings is another way to keep your house clean and tidy. Sort through clothes, books, toys and other items. Throw away very old and useless things and create a pile for charity, recycling or selling. You can make it fun for young family members by turning tasks into games. Perhaps create a sorting game, where you organise things into piles and reward children with stickers or candy.
As you can see, doing a few daily actions and making time for planning will really help to keep your life and home organized. Adding these methods to your daily or weekly routine will help maintain a happy household. Whichever solution works for you may come with trial and error but finding a good routine will make life much easier for you and your family.